AFFORDABLE LAST MILE DELIVERY
E-Cargo Trike
Our versatile E-Cargo Trike will accommodate all your retail and delivery needs.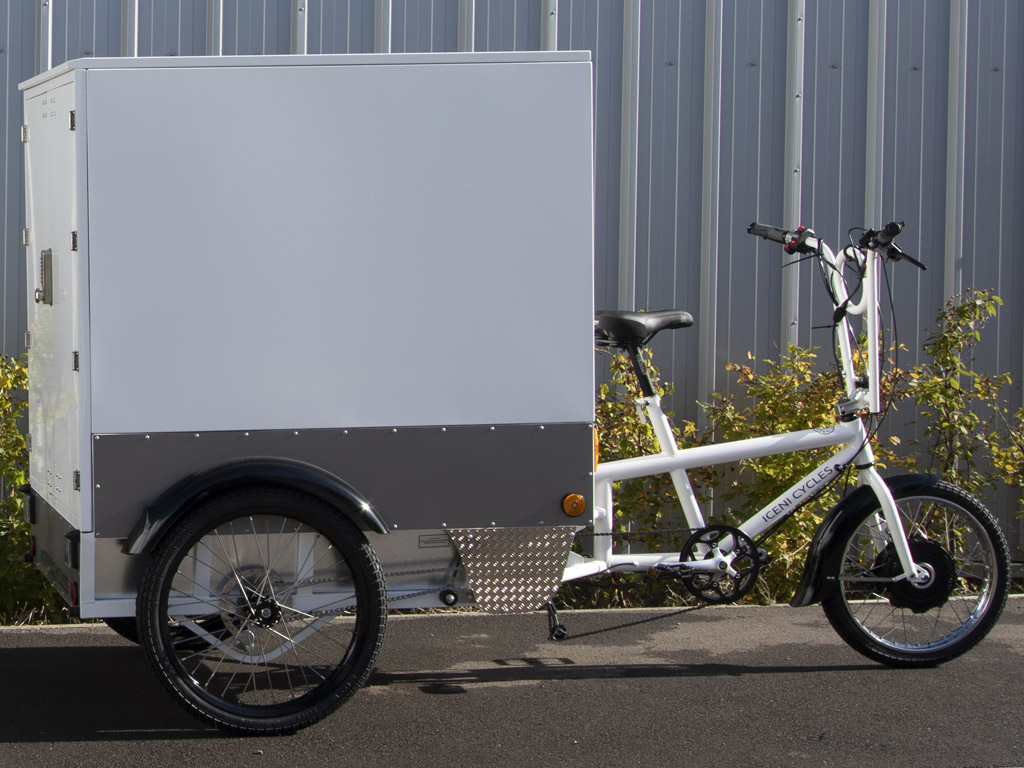 Commercial, heavy duty electric-assist E-Cargo Trike designed for the last mile delivery business and city logistics.
Developed in liaison with the UK's top last-mile delivery experts we take great pride in our current design as the go-to trike for those who need a tough and reliable vehicle.
With a load carrying capacity of up to 250kgs and 1.5m cubed capacity our trikes are capable and stable around town.
Powerful motors and large batteries give awesome daily range.
Cargo Box
We use two, single doors using stout stainless-steel friction hinges and metal slam-locks for safety, easy access and security. The infinitely reliable manual key-code unit is simple to use.
Friction hinges prevent unwanted slamming in windy conditions and a very simple steel cable releases the second door. Additional stainless steel plates prevent forced entry.
Cargo Power
We use the awesome Heinzmann cargo power motor, from Germany, which is unique in being cargo-bike approved. These oil-filled motors have tremendous pulling power right up to the 15.5mph/25kph restricted speed as per UK and EU regulations.
Battery Power
These 1440wh, 48 volt batteries surpass any previous models in terms of range and charge cycle lifespan which can stretch from 8 to 10 years!
Both Heinzmann motors and AES batteries are a familiar pairing with many thousands of units being used, for instance, by the German postal services.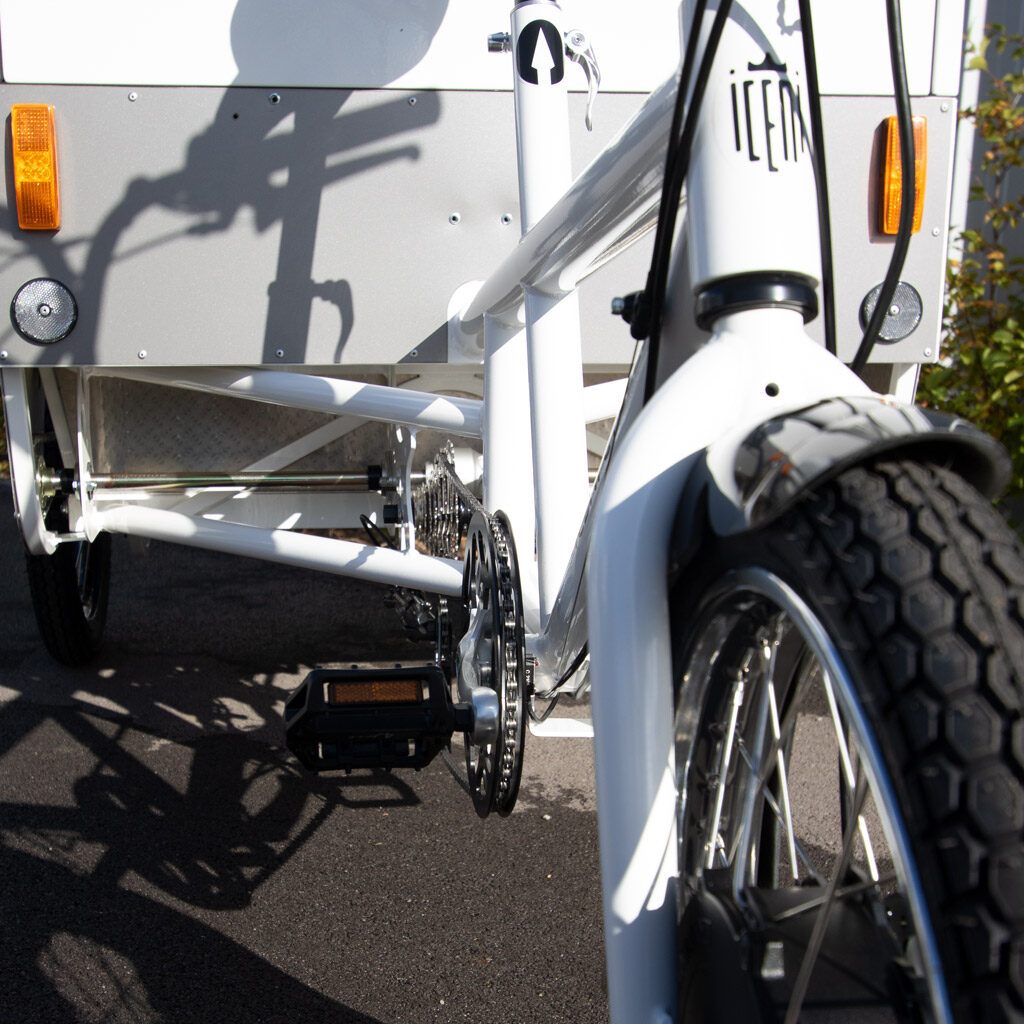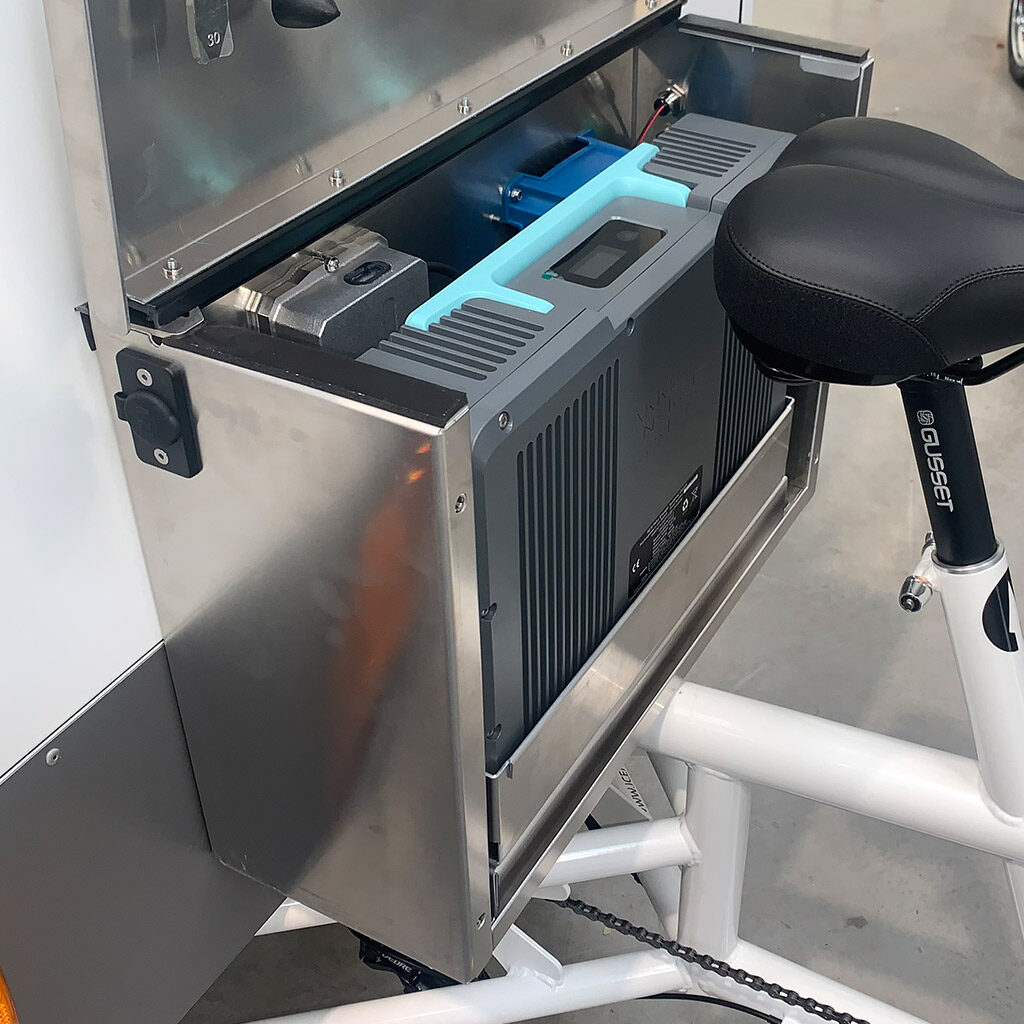 Kerbside weight of 125kg
Designed for multiple cargo solutions
1.5m cubed white alloy cargo box, 2 door with 3 point slam lock, PIN codelock
Cargo footprint 92cm wide x 125cm long with M6 body fixing points
Max dimension 107cm wide x 255cm long x 165cm high
1440wh Industrial Lion battery in lockable box
Immobiliser
LED Lights
E-Cargo Trike £POA
All prices are ex works and exclusive of VAT.
Due to daily fluctuating raw material increases a materials surcharge may be applied at issue of invoice. 
Lease Option
3 years monthly £POA – Weekly £POA
5 years monthly £POA – Weekly £POA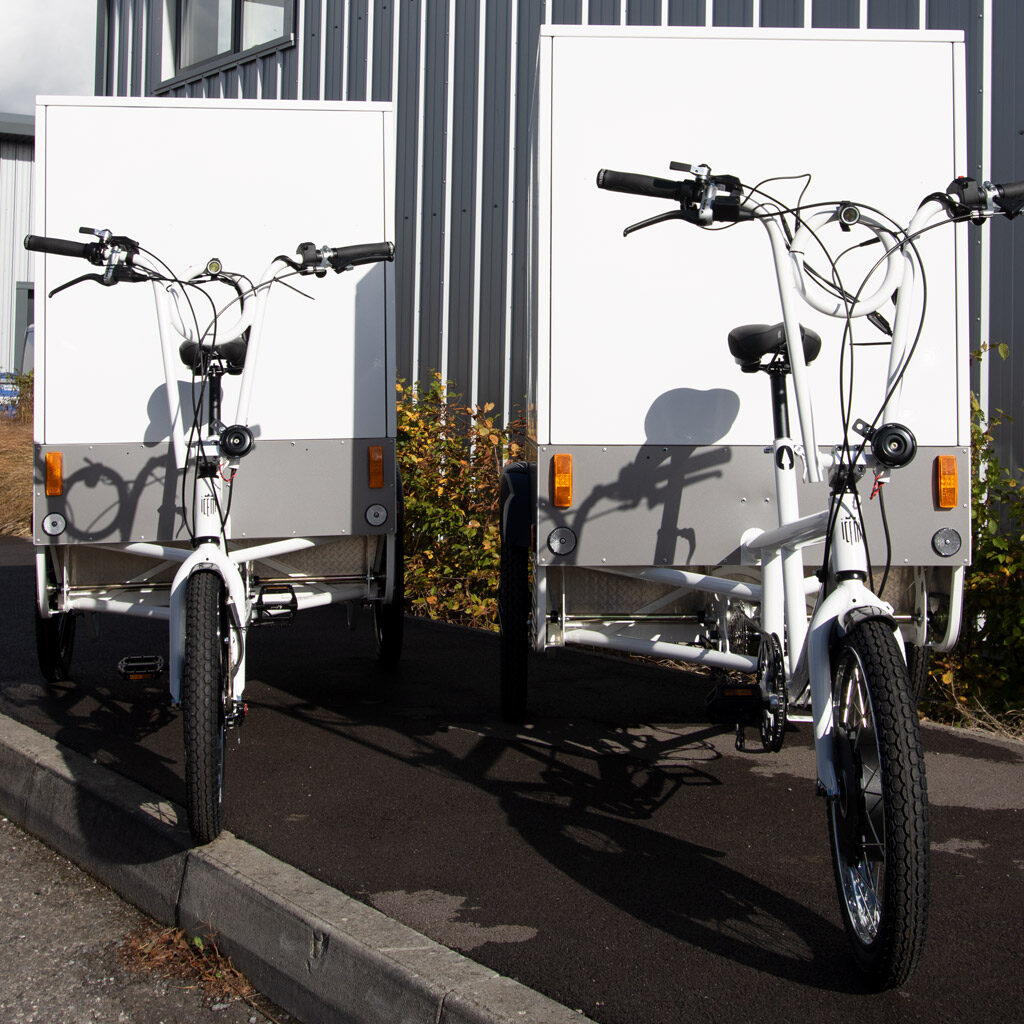 General Specification

180kg payload in safety, 250kg maximum with caution
High Performance Front Wheel Heinzmann RN111 Cargo Power Motor System
High quality high range derailleur gears, tough uprated chains
Front disc brake & parking lock
Rear Magura Big Twin hydraulic disc brakes with 180mm rotors
32 x 10g spoke on alloy rear Motorcycle rims with heavy duty hub.
Tough 16" Moped Front Wheel
Hard wearing Continental Moped tyres
Differential drive to rear wheels via the twin chain drive
Strong custom BMX forks, heavy duty bearings, oversize BMX clamp
Stub axles on rear offering straightforward wheel removal
Comfortable handlebar grips and sprung saddle
Water resistant & lockable battery box containing all electronics
Attractive and ergonomic custom fibreglass mudguards
Alloy chain guards & auto chain tensioner's all round
Full stop/tail/turn LED lighting, driving lamp and MX horn. 12v @ 100w aux supply
Optional Extras

300mm modular box add on to give 1.8m cube total capacity

Roof rails, for that extra load space

Spare 1440wh Lion Battery

Spare Battery Charger

COLOUR OPTIONS

WE HAVE A RANGE OF VIBRANT PAINT COLOURWAYS INCLUDING:

CREAM, SIGNAL WHITE
SILVER, DARK GREY, BLACK
SIGNAL RED, TRAFFIC LIGHT GREEN, SPEEDWELL BLUE

Other Colour combinations upon request (a charge maybe applied)
Please get in touch if you would like to get a quote for one of our trikes. A member of our team will be in touch as soon as possible.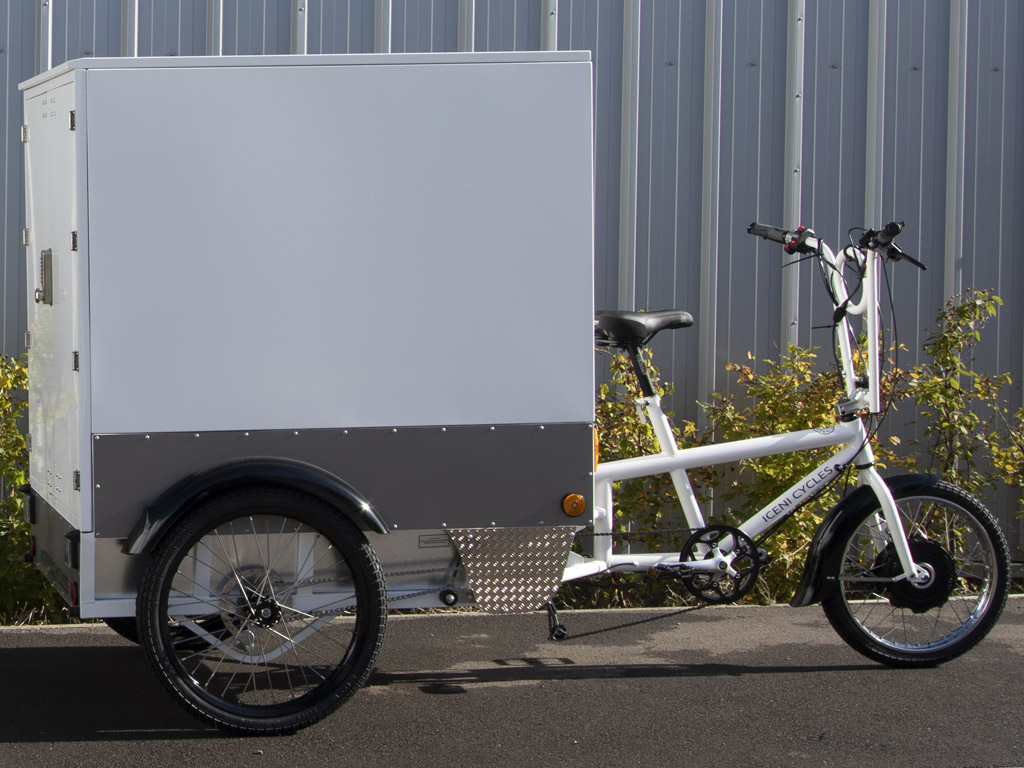 e-Cargo Trike
Developed in liaison with couriers, our powerful e-Cargo Trike can be relied on to work all day in safety and ease.
Available from £POA
Lease from £POA a week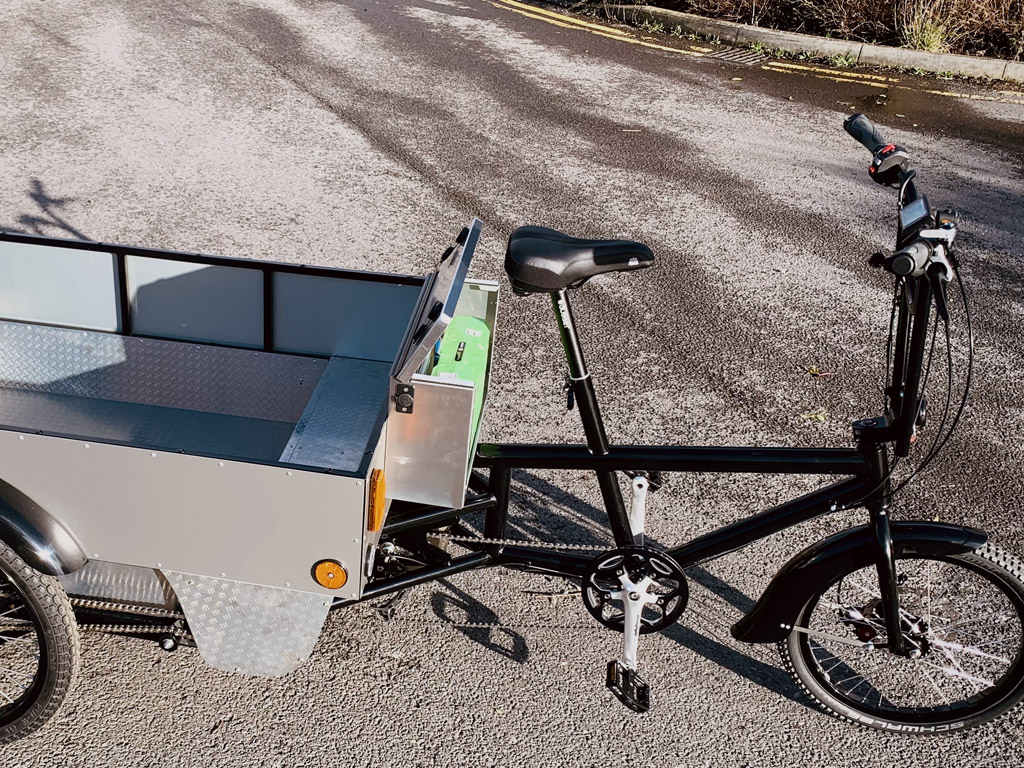 Pickup Trike
A versatile 'flat-bed' trike for large and bulky loads. Build your own retail unit, the possibilities are endless.
Available from £POA
Lease from £POA a week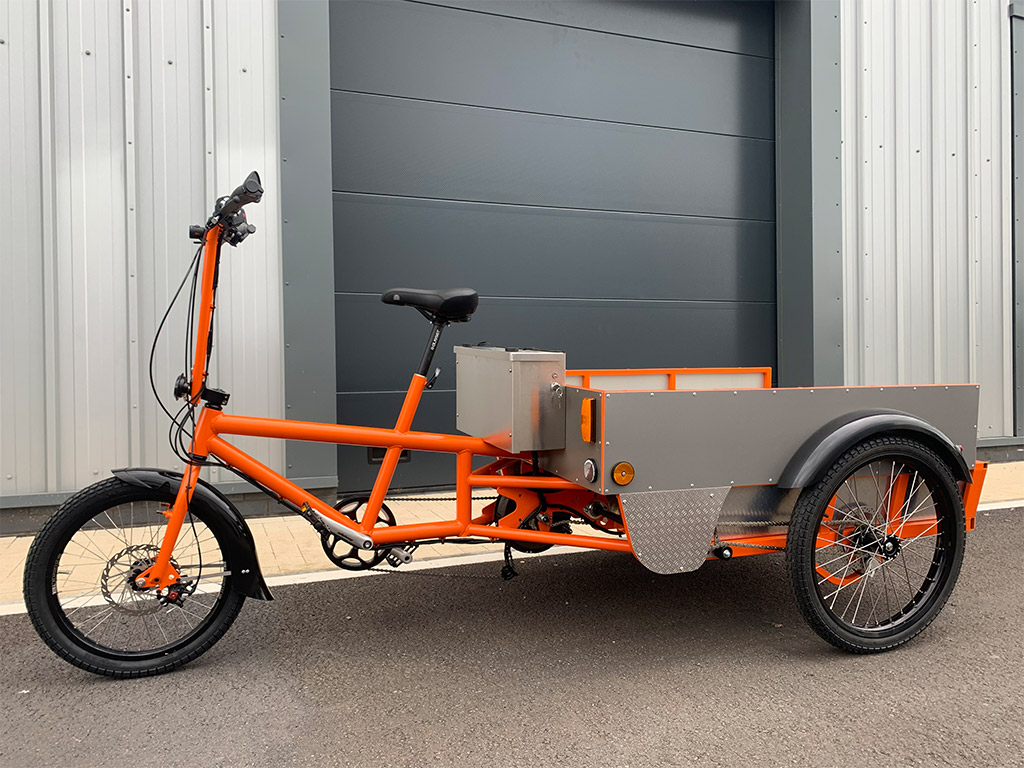 Adventure Trike
Designed to carry wheelchairs users in safety and comfort this versatile trike is a life-changer for many.
Available From £POA (VAT exempt)
Lease from £POA a week